Geographical information on the internet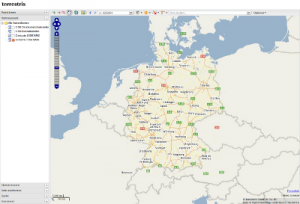 WebGIS Client
Since the advent of GoogleMaps everybody knows how to use maps on the internet. The ease of use makes GoogleMaps a success.
A WebGIS however can do more. You can integrate your own data and services as well as external services and functions that relate to your data. Fundamentally a WebGIS usually has two components: The geodata services and the graphical user interface (Client).
Through the use of map servers geodata can be made available as a service, either as a whole or in tiles (cue: Tile Server). The map services from providers like  Google, BING or the OpenStreetMap-project can be used. The graphical user interface (GUI) or client is where you present your services.
The GUI contains the map itself as well as tools for navigating it. Special tools for digitising, measuring and querying are also found here. In addition we can add other elements like a spatial search, an overview map or a layer-tree.
We develop WebGIS-Clients for Desktop-PCs as well as clients for mobile devices like iPads and Smartphones.
Our services
Advice and conceptionalisation of WebGIS
Implementation of searches and development of special functions.
Server installation and hosting
Individual implementation of GXM (GeoExt Mobile)
Training and Support